Bolide® Movie Creator
How to Create Topnotch Videos with Virtually No Efforts
Two questions: do you have a camera? We suppose you do. Then, how many uncut videos gather dust on your hard drives? We bet many. Why is this so? Not that you wouldn't want to get them in to shape, of course. But we often connect movie editing with hard times learning all the tricks and unobvious matters, so before you actually polish every piece of video on your computer you have to master some movie creating software, get the basics of the video montage and so on. This can easily take months! Is there any other way?
Skip Directly to Editing, No Theory Is Required!
Surely! Bolide Movie Creator is meant to help novice and inexperienced users to edit their movies and create high-definition AVI, MP4, MOV, MKV and WMV videos with little or no special knowledge and efforts. With it, you can edit home videos, put your family movie collection in order, cut unnecessary scenes or apply background music just as easy as if you were a true born professional!
Convenience Does Matter
While many so called professional one-hundred-dollars-and-higher movie editors put significant focus on functionality, their ease of use leaves much to be desired. An average user simply cannot work efficiently in such an application without having to rack his brains over it first. On the contrary, Bolide Movie Creator is designed with convenience and friendliness in mind. Every function is utterly intuitive and straightforward, so you don't have to spend hours on investigation or reading manuals. Just run the app and start working!
Hassle-Free HD Quality
In 2014, HD 1080p and 720p video is standard, not to mention upcoming 4K and 8K UltraHD formats. That's why it is particularly important to have
video editing software
to manipulate with
HD video
in different input formats without any intermediate conversions. Bolide Movie Creator easily edits Full-HD videos in virtually all media formats and saves the result as a high-definition movie in
AVI, WMV, MKV, MP4, FLV
formats. In a snap! We think it is one of the easiest
HD video editor
on the market today.
Exhilarating Processing Speed
Thanks to the multi-core/multi-CPU tailored engine, Bolide Movie Creator takes all the power your PC has and channels it to video processing. The more cores your computer has, the faster you'll get the result.
Versatility Ready at Your Hand
Bolide Movie Creator gives you all the power you need to edit HD videos with minimum time and effort.
Cutting scenes, adding picture frames to a video, adding music, applying hundreds of visual effects and transitions, merging videos together
and many more. All of these are available for as low as $39.95, plus few seconds to download the program and as much again to get into the app. Sounds like a
good deal
? It is!
Download the free trial
and unwind your creativity!
Latest Version
2.0
November 22, 2014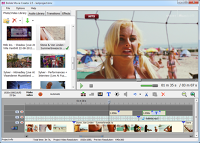 Free Licenses for Bloggers and Translators
Do you have an established blog (or Youtube channel) and want to publish Bolide Movie Creator review there? Or you can help us to translate the program to your native language? Ask us for a free license!