Download Better Movavi Alternative
This page is for those who are looking for a video editor from Movavi replacement. If Movavi Video Editor does not suit you or does not work correctly, we suggest you try the alternative - Bolide Movie Creator video editor. Our program is also easy to use and quite functional, download now!
The best Movavi Video Editor alternative
In general, Movavi Video Editor is a pretty good program, and it completely covers most video editing tasks. There is simply no perfect software, and Movavi may crash on any particular computer, but not Bolide. And vice versa. We give a
decent discount for switching from a competitor
and ask the users who have turned to us why they were looking for a replacement for the Movavi Video Editor. Here are some of the reasons they sent us:
Hello, I tried your program and noticed that it is less buggy, as well as the video output does not lose the quality of the source file. There were a lot of problems with Movavi Video Suite 14.
I decided to switch to the Bolide Movie Creator because the program's price is significantly lower than Movavi 360, and all the functions I need are implemented.
I decided to switch to another video editor because some functions in the Movavi just silently disappeared.
Too simplified file encoding in version 15. Bad audio file editing functionality.
I tried several editors. Bolide Movie Creator is the most accessible for the beginner to understand.
My friend from Spain recommends your program! After reading about the application and trying to create a video, I decided to move to a new editor!
Movavi may be slow when saving a video, and the saved MP4 files sometimes cannot be played on another computer - I guess some updated codecs are required. Not really understand this, I tried the free version of Bolide, everything works as it should.
Movavi does not work (crashes) on my laptop, and the support wrote that it is not adapted for my hardware, and your program works. Thanks, guys.
Movavi is too complicated for me and slows down the computer. The Bolide Movie Creator started quickly, the main functions necessary for me are present.
We are involved in video processing with a grandson who is ten years old. And I have to remove the program from his PC, then from mine, depending on where we are. With Bolide Movie Creator, I can install it on my computer, grandson's one, and at the cottage !!! For a child, exactly what we need !!!
Bolide Movie Creator vs Movavi Video Editor
Remember the look of Movavi Video Editor? Ok, here is how Bolide Movie Creator looks.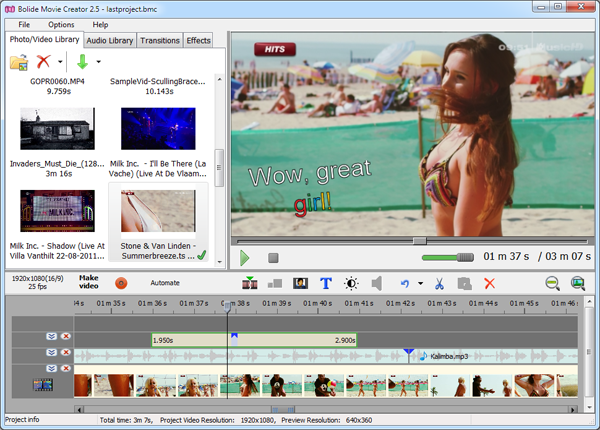 Movavi is good but try Bolide too!
Strange, the Movavi guys have been working on a video editor for many years, and most of the complaints are still about slowness and instability. It is probably due to the cross-platform architecture because Movavi has a video editor for the Mac as well. We consider them to be very cool specialists, and we think that Movavi Video Editor is perhaps the most popular video editor. Anyway, you better try Bolide Movie Creator too :)
Latest Version
4.1 Build 1143
May 04, 2019