Bolide® Movie Creator - Video Editor
We will prove that video editing is easy!
Our video editor Bolide Movie Creator:
Friendly for beginners
Includes all the basic functionality of video editing
Demo version does not limit the features in any way
Download right now and see for yourself that video editing is not only for professionals!
Skip Directly to Editing with Zero Learning Curve
Bolide Movie Creator
was designed with beginners in mind. Whether you're a video editing novice, or have no experience at all, Bolide Movie Creator makes video editing incredibly easy to learn! Through its intuitive design, users can create high-definition
AVI, MP4, MKV, WMV, and GIF
videos in minutes. The best part is there is no specialized knowledge required. Edit videos, cut unnecessary scenes, apply background music and add fades and
transitions
. Create expert video and leave your friends thinking as if they were made by a professional. If you have any questions about Bolide Movie Creator usage, please check out our
A Beginner's Guide to Video Editing
.
Convenient and Intuitive
While the expensive $100+ video editors tend to place significant emphasis on capabilities, their ease of use leaves much to be desired. For the beginner, using a professional video editing software means first having to spend days (sometimes weeks) figuring out how to use it. On the other hand, the Bolide Movie Creator was
made with convenience and usability in mind
. Every built-in function is both intuitive and straightforward. There's
no need to spend hours
reading instruction manuals; the first time you use BMC, you'll feel like you already know what you're doing. Our editor is as simple as
Windows Movie Maker
and even
better than Movavi Video Editor
!
Hassle-Free HD Quality
Believe it or not, we have had access to digital video cameras for close to 30 years now. Since its introduction in 1986, digital video has seen much advancement in quality. Today, the standard for high-definition (or HD) video is 1080p and 4K UHD, and rumor has it that soon there will be an UltraHD (8K and even 16K UHD!) format released. With that in mind, we've designed our video editing app to handle HD resolutions through a variety of video formats. Create stunningly beautiful videos using virtually any media type by processing them at the FullHD resolution. Once you've tried it, you'll undoubtedly agree that the BMC makes video editing a snap!
Super Powered Processing
Thanks to its multi-core/multi-CPU/GPU tailored engine, Bolide Movie Creator can combine computing power from multiple sources and channel it into the task of video processing. The more cores your computer has — the faster BMC can render your finished video projects.
Download video editing software!
The Bolide Movie Maker provides users with everything needed to create, edit, and produce high-quality videos. Soon you'll be cutting scenes, applying transitions and video effects, adding music and so much more on your video. For a onetime fee of $39.95, you'll gain access to a simple yet incredibly powerful video editing tool that lets beginners look like seasoned pros through its easy-to-use design. Bolide's movie editor provides you with everything that it has promised. Try it and see for yourself with our free trial download. Unleash your creativity today!
Latest Version
4.1 Build 1143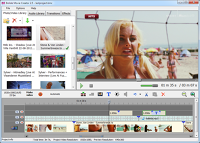 Free Licenses for Bloggers and Translators
Do you have an established blog (or YouTube channel) and want to publish Bolide Movie Creator review there? Or you can help us to translate the program to your native language? Request your free license!