Laptop Video Editor
If you are looking for an easy-to-learn laptop video editor, you are on the right page. You can download the program without wasting time by clicking on the link below. And below, we will tell you exactly why Bolide Movie Creator is good for use on a laptop.
Why Bolide Movie Creator Video Editor Is Good for a Laptop
If you do not have a top-end gaming laptop, then most likely you have a shortage of hard disk space, RAM, and a video card, it would seem weak. But!
Video card
Most likely, your laptop has integrated graphics from Intel - for example, Intel HD Graphics 3000. Well, yes, this is very weak in games, but it supports hardware-based video compression with the popular h264 codec! Our video editor uses this skillfully. Where a video editor without support for h264 hardware acceleration takes an hour to save the finished video, ours can do it in minutes! And this is not on the fastest laptop.
RAM
We optimized the program to consume as little RAM as possible. Due to this, even on systems with 4GB of RAM, Bolide Movie Creator works stably. By the way, if
Movavi is buggy
on your laptop, our program will be a good alternative.
HDD
It is unlikely that you will be able to find a video editor that takes up less space on your hard drive than Bolide Movie Creator. We include in the installation file only the most necessary. That is why you will not find ready-made libraries with pictures, footages, and other bells and whistles immediately after installing the program. You can find all this on the Internet and download what you really need only.
Tips for using a video editor on a laptop
There are some nuances of using a video editor on laptops. They are mainly associated with energy consumption. The fact is that by default, laptops are configured to save energy, and this is achieved by artificially reducing performance. For video editing tasks, performance degradation is unacceptable! If your laptop came with a special program for switching performance/energy-saving profiles, use it to enable maximum performance mode. Sometimes there is a separate utility for tuning the performance of the video card.
If you can't find a special utility for tuning your laptop's performance, at least plug it into a power socket (so that it doesn't work from the battery) - usually in this case, the system automatically turns off the power-saving profile.
This is very important, and here's why. We saved the same video on the same laptop with an energy-saving profile turned on and maximum performance. So in the first case, the video encoding was processed in 12 minutes, and the second was only 4! The difference is huge, especially on large videos.
I hope we have helped you determine the right video editor for your laptop. Bolide Movie Creator is pretty easy to use. Here is how Bolide Movie Creator looks: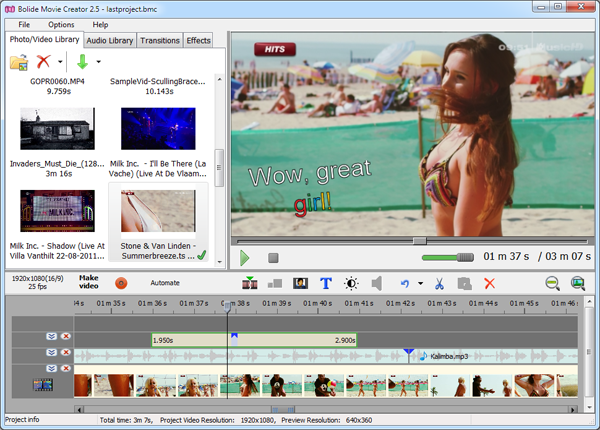 Latest Version
4.1 Build 1143
May 04, 2019