How to make a great movie out of your home video
Yes, you can edit your home video yourself!
Download Bolide Movie Creator because it:
Friendly for beginners
Works on usual PC (you are not required to have a high-end config)
You don't need to spend months learning the app (like in the case of Adobe and Sony apps)
Worths every cent and has no functional limit in the trial version
The Video is conquering the world by leaps and bounds. YouTube is currently at the peak of its popularity. No wonder that more and more people these days have their own YouTube channels and desperately need videos for it.
And though most families have hundreds of such videos in the family archive, the Internet has made it possible to do it easily, quickly and with highest possible quality. Now, these home videos change into real movies made by ordinary people with their own hands.
The thing is that a lack of technical knowledge stops lots of people – I mean to figure out what to start with a professional video-editor isn't just a piece of cake...
No more professionals needed to make a cool home movie!
Though, there's good news! Especially, if you, like me, are not a techie. All this became possible thanks to the programs, which are
specially made for non-techies
. Such programs have no extra options – only the set of functions necessary to make a cool movie without having too much knowledge or applying to professionals.
What you won't have to deal with using such a program
rack your brains how to explain to professionals what you really want in your movie
get upset because the professional did everything in the such a way that you don't like it
waste your time and nerves trying to understand how a sophisticated video-editor works
What to start with?
What you start with is thinking over the scenario. You should fully realize what you want to see in such a movie, which mood you want to create, which emotions you need to arouse among those going to watch the film, which music is most appropriate as a soundtrack and other details. It's an incredibly creative and exciting process! It catches 100% of your attention from the very first minute.
Making a home movie in 5 easy steps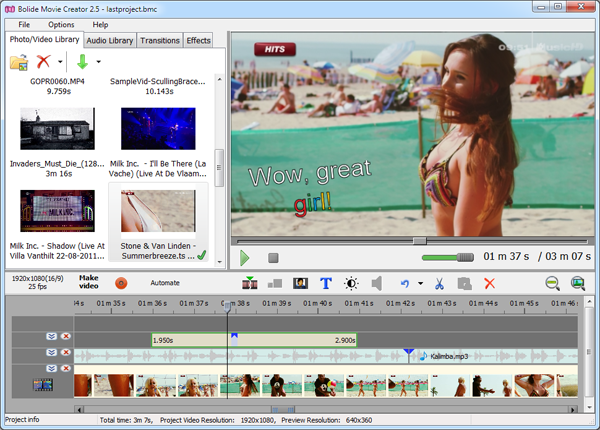 To start with, let's get ready with all the materials for the video. For a high-quality movie, a good program gives you an opportunity to use: video, audio, images, text comments. So, in a couple of clicks, you upload all these files to the program.
Then we add all the materials on to the timeline – it's your working space. Here you can clearly see when one file finishes and another one starts. Here you can change the scale, cut out, insert, move fragments from one place into another.
Adding transition effects - either manually or let the program do it automatically. Transition effects are important links between the frames helping to create the effect of flow.
In the preview window, you can immediately see what you've done and make the necessary changes.
Choosing one of the popular video formats and save it to the hard drive.
That's it! In a few easy steps, your home movie is ready! Now you can enjoy the results.
Which program is most easy to use?
I am often asked to recommend a program which would be a perfect solution for non-techies. So, judging by my experience, one of the most easy-to-use and reliable video editing programs is
Bolide Movie Creator
from Bolide Software - highly recommend it to everybody! Read more on
how to use Bolide Movie Creator
.
Latest Version
4.1 Build 1143