Download Advanced Movie Maker
Not sure where to download Windows Movie Maker or looking for an analog? We have something to offer you! If you have already worked with Movie Maker, then dealing with our Bolide Movie Creator is easy for you, and in terms of functionality, you can even win! Our program is far superior to Windows Movie Maker, download now!
The best Windows Movie Maker alternative
Honestly, when we first noticed how our video editor was called an
advanced Movie Maker
on one of the forums, it was even a little annoying :) We believe that our editor is much better in functionality and without the limitations of Windows Movie Maker. Most likely, the forum meant the similarity of the interface and ease of use. By the way, I would not want you to miss a
decent discount for switching from a competitor to Bolide Movie Creator
!
See briefly on the functionality of our video editor
The video project is a timeline with many tracks. These tracks can have any content - pictures, audio, video.
The presence of an unlimited number of tracks allows you to implement various overlays - video on video, a picture on video, adding music, text blocks.
Like Windows Movie Maker, dozens of transition effects are available in our editor.
Bolide Movie Creator accepts a large number of existing formats as a source and does not depend on the codecs installed in the system, unlike Windows Movie Maker.
All the functionality of Windows Movie Maker is implemented in our editor. Plus, a lot of extra goodies - Chromakey, video stabilization, and much more.
If your Windows Movie Maker freezes, then our video editor doesn't allow it!
What do you do when you don't know how to do something in Windows Movie Maker? And in the case of Bolide Movie Creator, you can write to us in tech support and we will respond promptly!
Guys, do not look for where to download Windows Movie Maker, download Bolide Movie Creator and you will not regret it!
Bolide Movie Creator vs Windows Movie Maker
Remember the look of Windows Movie Maker? Ok, here is how Bolide Movie Creator looks.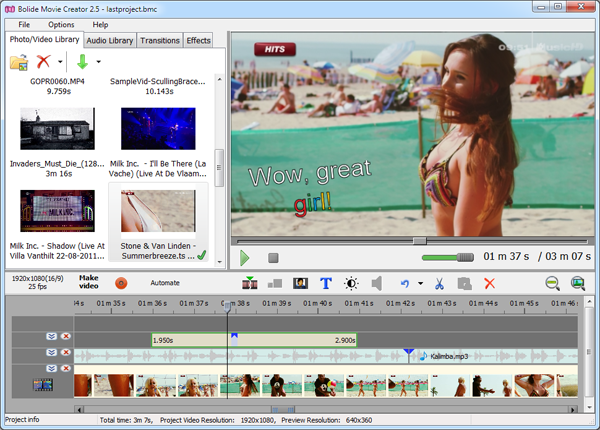 Why people look for Windows Movie Maker alternative
Do you know what the main reason that many are looking for a replacement for Windows Movie Maker? It saves video only in WMV format! If you want to save it in popular AVI, MP4, MKV containers, and even in animated GIFs - choose Bolide Movie Creator!
Latest Version
4.1 Build 1143
May 04, 2019