Bolide Ultra HD Video Editor
Create and edit 4K/8K video
Download Bolide Movie Creator because it:
Friendly for beginners
Works on usual PC (you are not required to have a high-end config)
Uses hardware acceleration of your graphics card for your HD video
Costs lower than those hard-to-use Adobe and Sony monster apps
If you are a vlogger or an aspiring filmmaker, you might want to try using the best 4k video editing software for Windows. With 4k video editing software, you can create professional-looking video content that can be shared with your family, friends and online followers.
What Do You Need to Make Great HD Movies?
Videos are far more likely to go viral online and spread your message or ad to a wide audience than text or photos alone, but to make great movies that people want to share, you need the right tools. First, you'll need a way to capture your videos, such as a high-definition video camera, a webcam, or a cell phone. The camera allows you to capture the images and sound, but it won't give you a polished, finished video. To get your videos ready for viewing, you'll need an HD video editing app.
What Is an HD Video Editor?
An HD
video editor
is a software program that allows you to transform raw footage into a polished movie and save it with the high resolution (at least, FullHD, Ultra HD 4K resolution is becoming popular now). You can reorder scenes, shorten video, add special effects and perform other tasks with an HD video editor app. The software is also used to save the video in the right format for viewing online or offline.
Top Reasons to Make Bolide Movie Creator Your HD Video Editor
There are many reasons why you should make Bolide Movie Creator your go-to software for 4k video editing. The interface is straightforward and easy to use, and you can use the software to make videos in several formats. Here are five reasons that make Bolide Movie Creator your best choice for making HD videos.
Bolide Movie Creator does not require you to have any tech or video editing experience. You can begin to use it right away without having to take classes or read lengthy manuals. More in An Easy-to-Use Video Editor for Beginners article.
Bolide Movie Creator supports more file formats for videos than other HD Video Editor software.
Bolide Movie Creator creates a true high-definition film in your choice of FullHD 1080p, 720p, 4K UltraHD (*) and 8K UltraHD (*) formats. The result is a crystal clear picture that never fails to impress.
Bolide Movie Creator lets you perform all the video editing tasks that you could desire, including cutting scenes, inserting new frames, adding a music soundtrack, enhancing scenes with visual effects and transitions and merging movies.
Bolide Movie Creator is more affordable than other video editor programs with fewer features, costing as little as $39.95.
If you're ready to begin creating great high definition movies, it's time for you to download Bolide Movie Creator. You can even try the HD video editor for free to see how powerful and easy it is to use for yourself.
DOWNLOAD "BOLIDE MOVIE CREATOR"
(for Windows 11/10/8/7)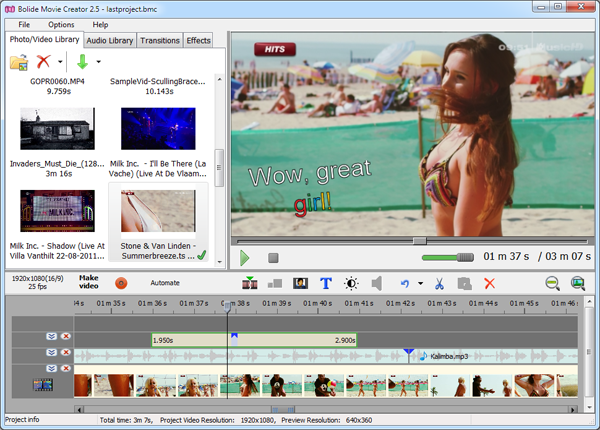 Latest Version
4.1 Build 1143